Information and contact
Set in a handsome building at the end of Oliver Plunkett Street in Cork city, this new restaurant combines an in-house nano brewery—for the already established Elbow Lane craft beer—with a smoke house serving exciting food and drinks. Open 7 days, Mon – Sun, from 5pm.
Our Beers
We're really proud of the beers that we make here in our tiny brewery. There are no additives and we proudly brew according to the principles of the German Purity Law which means that we use four ingredients to make our beer. Quality and taste are paramount to us and we formulated the beers below specifically to work with the food we offer in our four restaurants.
We hope you enjoy!
Elbow Lager
Angel Stout
Wisdom Ale
Jawbone Pale Ale
Arrow Weiss
Item
Price
Elbow Lager 4.4%
Elbow Lager is particularly refreshing and owes its flavour to barley malt and a generous hop bitterness. It will complement most lighter dishes. A great treat for beer lovers.
€2.70 / €5.30
Angel Stout 4.4%
Angel Stout has a tough roast and malt flavour with a full-bodied and smooth finish. The beer is brewed using the strong hop variety Herkules to get a balanced hoppy spiciness. It will suit big robust steaks, stews and curries.
€2.70 / €5.30
Arrow Weisse 5%
WINNER: Best in Category – Wheat Beers at Killarney Beerfest 2015.
A traditionally brewed Bavarian style Wheat Beer, naturally cloudy with aromas of clove and banana from the special yeast used to ferment this beer. Satisfying with a refreshing citrus character on the palate.
€2.70 / €5.30
Wisdom Ale 5.2%
Wisdom is a red ale. A selection of Vienna, Pilsener and Munich malts were used to give the beer a medium body with slightly and toasty malt flavour tones. The ale is excellent with many foods and uniquely satisfying as a stand-alone pint.
€2.70 / €5.30
Jawbone Pale Ale 5%
A strong English Style Pale Ale brewed with Maris Otter Ale malt which imparts a rich malt flavour and balanced with the hop varieties Pilgrim & Fuggles.
€2.70 / €5.30
Arrow Weiss 5.0%

€2.60 / €5.10
Tasting Tray A
3 beers + olives
€9.90
Tasting Tray B
4 house beers
€9.90
Shop
Vouchers
Treat your friends and loved ones to an unforgettable meal at Elbow Lane with our restaurant voucher. Vouchers can be purchased online for a minimum of €20.00 and up to €500.00. You may choose to have the voucher held at the restaurant for collection or posted (within one working day) to you or the recipient directly. Personal dedications are also available, with the personalised message included in the voucher. The voucher itself is a handsome A6-sized embossed and folded gift card printed on heavy stock which comes in its own matching envelope.
Buy Now
Take home a taste of Elbow Lane with our special Rub and Sauce, available to purchase in the restaurant, at a growing list of outlets nationwide.
Elbow Lane Smokehouse Sauce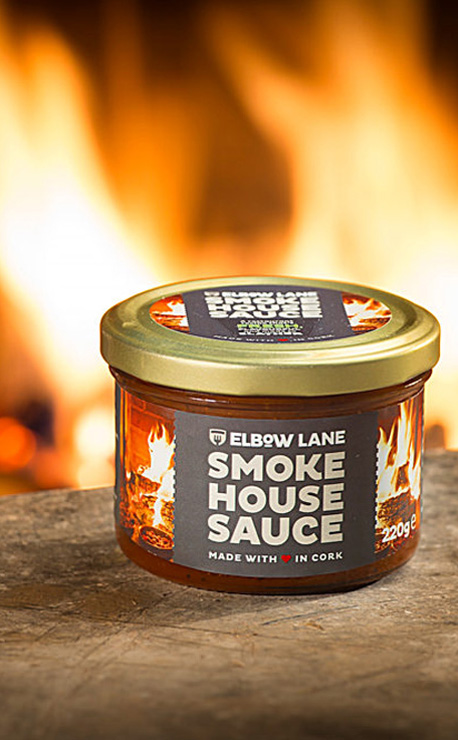 This amazing Smokehouse sauce comes straight from the kitchens of our restaurant where we use it for a great many dishes. We suggest that it can be a dip, a marinade or a sauce. Our favourite use of it is on our pork rib dish. When we cook this dish at home we buy our ribs the day before, usually from Tom Durcan in the English Market. We apply our Smokehouse Rub to flavour the meat in advance and leave them to chill in the fridge overnight. We then pre-heat our oven to 100 degrees Celsius, insert our ribs and let them cook for 3 hours.
30 minutes before they're done we take them out and, well there's no other word for it, SLATHER them with this sauce. We then return them to the oven and sit by the door for the last half hour to make sure nobody else comes in and whisks them away. We let them rest for around 5 seconds and then eat them with some home-made coleslaw and roast sweet potatoes.
More info: smokehousesauce.ie
---
Dry Rub
About this Dry Rub
This rub is a combination of salt, pepper, sugar, herbs and spices and can be used to flavour meat in any dish. Unlike a marinade, the dry rub will form a tasty crust on the exterior of the meat when grilled. If grilled, the sugar will caramelize and form a crust to seal in all the flavor and juices. Just about any meat can be rubbed before going on the grill or in the oven. There are people that would disapprove of you using this rub as a seasoning on chips, potatoes and indeed breakfast cereals, but we don't know any of those people.

Thicker cuts and cuts of steak with a bone in them tend to be more flavourful, but require more time to cook. We suggest ribeye steaks, t-bone steaks, centre cut loin and sirloin steaks. We also season our triple-cooked chips in the restaurant with a version of this rub.

Method
Working with 1 steak at a time, apply a generous amount of rub to 1 side and using your hand, rub the spices around the surface of the meat until it's totally covered. Turn the steak over and apply the rub to this side as well.
Rubs can be applied as soon as a few minutes prior to grilling, but the best flavour comes as a result of letting the steaks rest, covered, in the refrigerator overnight or for at least a few hours. Let the meat come to room temperature prior to grilling it. In our restaurant having applied the rub, we wrap our meat in clingfilm to ensure that the rub can do its job properly.
Put the steaks on a preheated grill and cook them until they're cooked according to your taste. This rub can burn so it is advised to cook the steaks over a lower temperature.